How Does Collecting Knowa Work?
Knowa Tiles are unique in the collecting world today. Our collector tiles are real things delivered to your door. They are not "virtual."
Each Knowa Tile is encapsulated in our tamper-proof polycarbonate holder. The tile is housed in a deluxe presentation box and includes our Certificate of Authenticity and Owner Manual.
New Tiles are released on a regular basis. New owners can register their information in our private databaseand become a member of the Knowa Collector Club. .
Buyers Become Members of the Knowa Collector Club
New collectors can choose to use the Knowa Connect app to register ownership of their collectible. It is not required, but highly recommended.
When new collectors join the club, they register ownership using the QR code claiming technique described in their Owner Manual (included with every purchase). By registering, the owner becomes "official" and is recognized as a member of the Knowa Collector Club and an owner of a specific collectible. This begins the provenance of their item.
---
Knowa Tiles — Real Rare Objects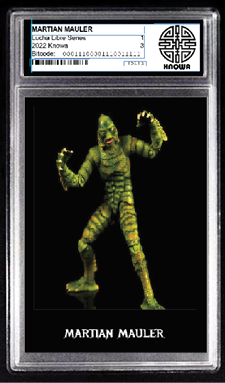 A Knowa Tile is a real object about the size of a standard trading card. In its secure holder the overall dimensions are 3-¼ inches by 5-⅜ inches by ¼ inches (80mm x 135mm x 6mm). The tile in its holder is the same size as a collectible trading card in a PSA or CSG holder. The card itself measures 64 x 89.5 millimeters (2 1/2 inches by 3 1/2 inches).
---
Exciting Collecting Potential
Knowa Tiles are real, rare, and tradeable.
We believe Knowa Tiles present collectors with new ways to own awesome objects that are both real and rare. Rarity means every collectible has a small supply due to its limited edition. Because of their rarity, we believe Knowa Tiles could become popular with collectors seeking something new. As demand grows, our tiles could go up in value.
Knowa is real. This means Knowa Tiles are not NFTs or "digital". You can hold them. They are of the physical world. We believe the current NFT craze will subside and fade away because the artists and collectors will not profit, only the promoters of the marketplaces will. But collecting will always be with us, because it is in human nature to seek to own beautiful things. Satisfaction comes with the pleasure of "possessing", so digital art on a screen can never be as satisfying as a real object, in our opinion.
Knowa is tradeable. This means every Knowa Tile is a tangible, physical asset that can be sold and transferred to a new owner for a profit. The goal for collectors seeking to make money from Tiles is to follow standard trading strategies, start early, buy low, sell high, or hold for the long term gain.
We hope you will become a Knowa collector and join us as an early adopter. The future is bright. Start your collection today!